Latest News
Forthcoming / Recent events
Greaae Theatre/Centre for Illustration
Collaborative project
I was invited by Graeae Theatre to take part in this exciting collaborative project with the Centre for Illustration. I was paired with Graeae performer Mel Stevens and our resulting work can be seen at the Guardian Headquarters in February.
See news 2016 for further details.
---
Royal West of England Academy
163 Annual Open Exhibition
Queen's Road, Bristol BS8
4 October -29 November 2015 10am -5pm daily
The Royal West of England Academy in Bristol invited artists to submit their work for consideration to its most popular show on the exhibition calendar. Now in its 163rd year, the Annual Open Exhibition provides an opportunity for regional, national and international artists to exhibit their work alongside other renowned names in British art such as last year's invited artist Sir Peter Blake (Hon) RWA.
This year one of my Shetland works 'Joan at Breakfast' has been accepted and is on display as part of this exhibition.
---
Chimney Stacks and Red Rocks
Geevor Tin Mine Museum
12-16 October 2015
Following my collaborative artist residency and exhibition at Geevor Tin Mine Museum with poet, Evlynn Sharp, I have continued to make work inspired by the site and have kept in close touch with all the staff at Geevor. I worked with Clint Hosking from the Learning Team and we were successful in applying for a grant from Feast to undertake a community based project to coincide with the Big Draw in October.
The Red Rocks and Chimney Stacks project aimed to engage with members of the local community in order to produce creative works inspired by the heritage and industrial landscape, particularly around Geevor Tin Mine. It offered local groups the opportunity to work with a professional artist who was familiar with both the landscape and the mining history.
During the week of 12th – 16th of October I facilitated art workshops in and around the community that surrounds Geevor Tin Mine and worked with over 60 participants. I worked with groups such as the Pendeen Art Group, the University of the Third Age, and at venues such as St Just Methodist Chapel Rooms, Penlee Art Gallery and Coach House in Penzance and in Geevor's own listed buildings.
One of the highlights for me was to be invited to give a talk in the Gallery at Penlee House where they have a collection of work by Cornish artists and an education room based in the heart of the gardens.
Workshop participants working on site at Geevor
Sally demonstrating art techniques at St Just
Workshop at Penlee House
Clint Hosking said "The project has allowed Geevor to reach an audience that does not always engage with the site. A mining site is not perceived as an art inspiring location despite the fact that Geevor has welcomed many artists over the years that have produced fascinating works. By working with the surrounding community the project has encouraged people to engage with their heritage and use it as a source of inspiration".
---
A Touch of Art Exhibition
Tuesday 6 October-Monday 2 November 2015
Opening Times:
Monday, Wednesday, Thursday, 9am – 8pm
Friday, 9am – 5pm
Saturday, 10am – 6pm
Closed: Tuesday and Sunday
I co-curated this exhibition with fellow tutor, Stephanie Webber. It features inspired works created by students with sight loss who attend the art classes we teach at Pocklington Resource Centre, Balham. These works are displayed to be enjoyed through touch as well as through sight. Large print and braille information provided.
The exhibition opened with a launch event on 6 October which was introduced by Diana Vernon from South Thames College and featured live music and a performance.
Sally in front of her drawing of walking boots
My own piece was a very tactile ink and mud drawing of my walking boots. I made the paper myself using minerals and oxides I had collected while on walks around Geevor Tin Mine Museum.
If you have any further queries please contact Pocklington Resource Centre, Balham, on: 020 8675 4246
---
CANNIZARO STUDIOS OPEN WEEKENDS
19-20 & 26-27 September 2015
12.00 noon – 6.00pm
Come and see the work of painters, potters, printmakers and sculptors. Based in the heart of Cannizaro Park.
RESIDENT ARTISTS:
Barbara Aldridge, Sally Booth, Susan Berry, Ben Gibbon, Moira Jarvis, Deana Lee, Tim Norris, Julian Rena
ADDRESS
The Potting Sheds
Cannizaro Park
Wimbledon Common
London SW19 4UW
LOCATION OF CANNIZARO STUDIOS
The studios are located by the pond next to the Italian Walled Garden in the middle of Cannizaro Park, Wimbledon Village. Cannizaro Park is behind Cannizaro House Hotel and is signposted from the main park entrance on the West side of Wimbledon Common. It is approximately a 25 min walk from Wimbledon town centre.
HOW TO GET TO US
Tube: Wimbledon on District Line and 25 minutes walk or bus
Bus: The 93, 200, and 493 go to Wimbledon Village. 10 mins walk
Trains: Direct from Waterloo & Clapham Junction
Tramlink: From Croydon
Car: Parking is usually available nearby. For disabled access by car, please come to the studio via Camp Road.
For a full digital catalogue, see the website Merton Arts Trail
---
Exhibition Tour in the Czech Republic May – September 2015
In May 2015 I was invited by SONS, a leading VI non- profit organisation, to visit Prague and to attend and show an exhibition of my drawings and paintings at their multi-disciplinary arts festival at The Verrmissage, Ostrava.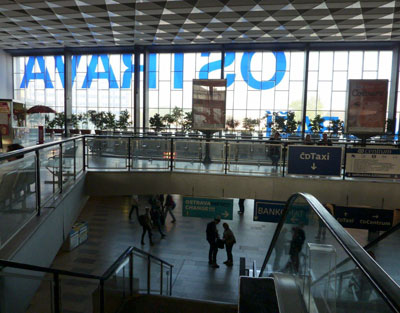 This was part of an annual event Art Days of the Blind in Moravia, which aims to profile the work of a wide range of visually impaired practising artists from around the world. My work was on display in Castle Lesná in April, in Ostrava in May, Opava in June, Zlín in July, Olomouc in August and Nový Ji?ín in September. The event was held in cooperation with the regional organizations of the Czech Blind United (SONS), cultural institutions, and the local authorities.

www.sons.cz
---
I was recently invited to appear on In Touch, BBC Radio 4, to talk about the artist Sargy Mann
http://www.bbc.co.uk/programmes/b05r3wgp
[time limited]
---
One Degree of Change
An exhibition exploring issues of self-representation and portrayal
Bank of America Merrill Lynch
2 King Edward St
London EC1A 1HQ
As part of a continuing relationship with digital art agency filmpro, I have been invited to show my work in this exhibition, which they have curated in partnership with Merrill Lynch's Disability Advocacy Network. Alongside other disabled artists, I have two photographic light boxes on display at this exhibition, which opened with a launch on 25th February 2015
lightboxes on display at One Degree of Change
To see the complete series of light-boxes
http://www.sallybooth.co.uk/BluecoatWindows/index.html
filmpro ltd is a disabled-led digital art agency, supporting artists who experience exclusion, particularly disabled artists, by providing services ranging from advice and mentoring through to production and project management. filmpro's mission is to extend the ways of making and experiencing film and digital art, and the diversity and openness of the arts sector.

www.filmpro.net
---
Going Underground: Tales from the Tube
I was filmed and interviewed as a "tube artist" by children from Gateway and St George the Martyr Primary Schools as part of this project about the history of the London Underground. Made with film-makers Sav Kyriacou and Matt Rosenberg from Digital:Works, this film is regularly being shown on the Community Channel on TV.
To see the whole film visit:
www.goingunderground.org.uk
www.digital-works.co.uk
http://www.communitychannel.org/
---
To see highlights from 2014, including slide shows and installation shots from my exhibitions at Tate Modern, Geevor Tin Mine Museum and Forth Valley Royal Hospital click here.
---
Last years news
Have a look at previous years news from 2014,2013, 2012, 2011, 2010, 2009, 2008, 2007 and 2006.